Dwaine's Story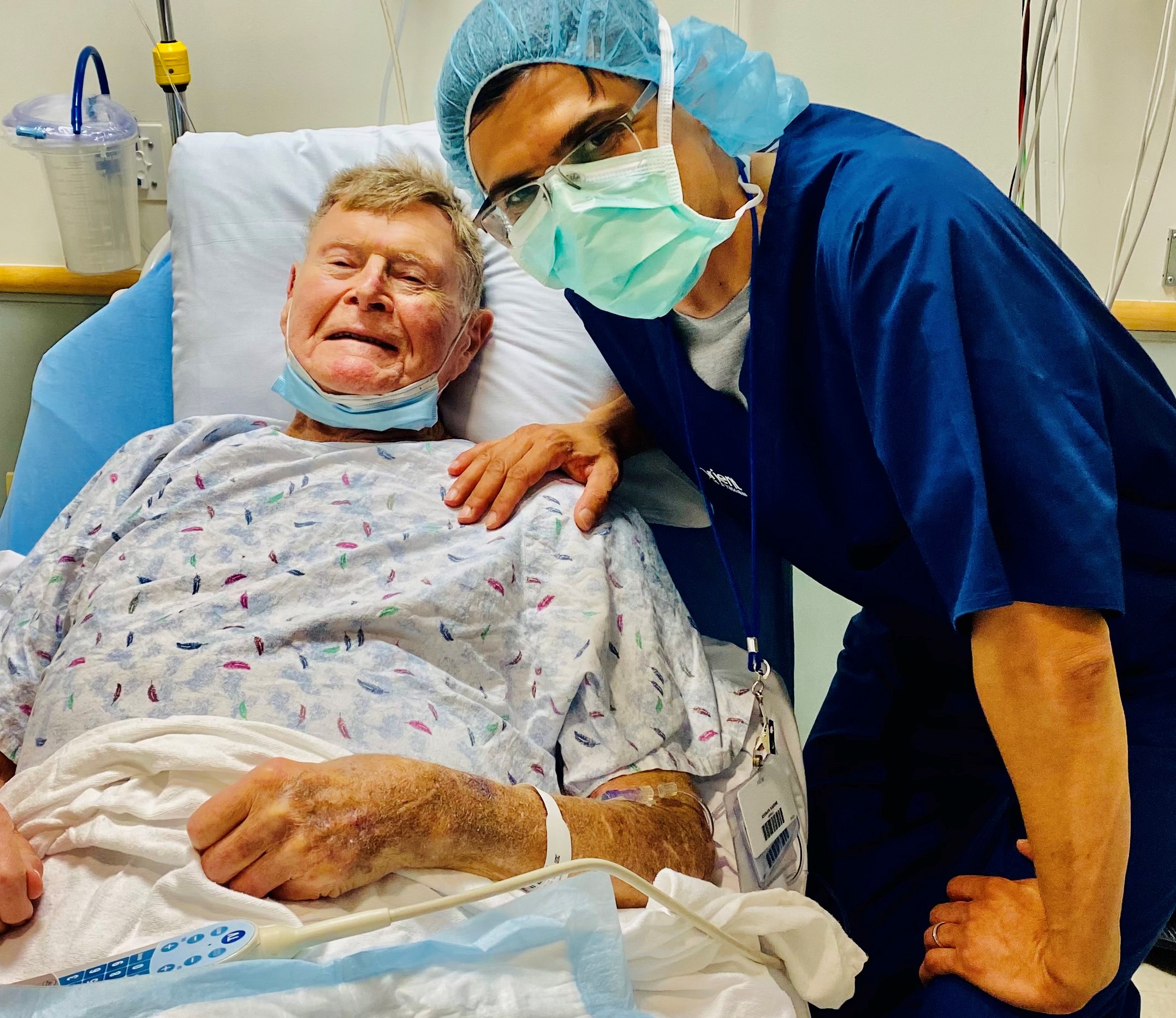 "Dwaine is now well enough to walk and enjoy his life" quoted his wife, Judith, on a follow-up phone call with Dr. Ashkan Karimi, who performed a vascular intervention that saved Dwaine's leg.
Dwaine was born on a farm in 1929 and has had a very successful carrier with the military and the DOD. At age 92, he has a fantastic sense of humor, a lovely wife, and six children. He has lived around the world, and stateside in 13 different locations, finally moving with his wife from Arizona to settle in Virginia together.
Dwaine suffers from an advanced form of peripheral arterial disease which means blockage of leg arteries. His condition is called "Critical Limb Ischemia" or in short "CLI". He initially met Dr. Karimi in March of 2020 and underwent limb salvage procedure which ultimately healed a large wound at his right ankle. Subsequently Dr. Karimi moved from Charlottesville to Northern Virginia and joined Carient Heart and Vascular. In November of 2021, Dwaine developed a new wound, this time at his left foot. Dwaine and his wife decided to travel 2.5 hours to be treated by Dr. Karimi.
Dr. Karimi: I am very grateful that Dwaine and Judith trusted me enough to travel this far in order to receive their care. "Carient Heart and Vascular" has been a pioneer in adopting telemedicine since the pandemic started. That enabled me to perform virtual visits with Dwaine and coordinate his care with his local cardiologist and wound care specialist and we only needed to bring Dwaine for his procedures. Carient is also unique that our group includes both a vascular surgeon and an interventional cardiologist treating complex patients such as Dwaine. We regularly discuss patients in a multi-disciplinary fashion to ensure patients receive the most appropriate treatment, whether it is open surgery or endovascular therapy. In the case of Dwaine, best treatment was endovascular therapy given his age and comorbidities. After two successful procedures, Dwaine's wound healed and his pain resolved and I am glad to hear he is enjoying his life at 92.
Approximately 6.5 million people age 40 and older in the United States suffer from peripheral arterial disease and 2 million people suffer from CLI. CLI carries over 25% risk of major amputation and 19% risk of cardiovascular mortality at 1 year. Treatment by a team that specializes in treating such patients would drastically improve their outcomes.