Meet Dr. Soh
Eugene Soh, MD, FACC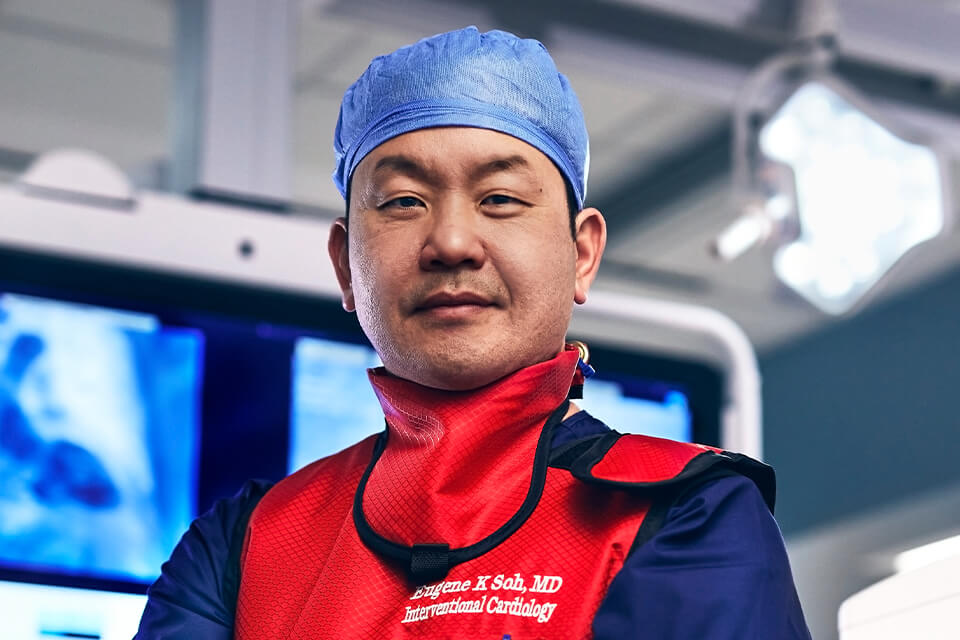 Areas of Expertise
Coronary Artery Disease
Atherosclerosis
Acute Myocardial Infarction
Preventive Cardiology
Valvular Heart Disease
Transcatheter Aortic Valve Replacement
Biography
Dr. Eugene Soh joined Carient Heart & Vascular after a decorated 25-year career in the United States Army. After graduating from the University of Virginia, Dr. Soh was initially commissioned as a Medical Service Corps officer in the Army. After serving in this capacity for five years with assignments in Korea and the DC area, he entered medical school at the Uniformed Services University. Upon graduation, he was awarded the Army Surgeon General's award for overall excellence as a medical student.
I have lived and served all over the world, but I have long considered Northern Virginia to be my home. I am excited to continue serving this vibrant community with such a talented team at Carient Heart & Vascular.
He then completed internship and residency at Tripler Army Medical Center in Honolulu. After serving as chief resident and as a staff internal medicine physician, Dr. Soh began his cardiology training at Walter Reed Army Medical Center in Washington, DC, followed by subspecialty training in interventional cardiology at George Washington University, also in the District. Upon completion of his training, Dr. Soh was transferred to Brooke Army Medical Center in San Antonio, TX. While there, he served as the director of the cardiac catheterization lab and started the transradial cardiac catheterization program with dramatic reductions in complications and concomitant improvements in patient satisfaction from this alternative approach to invasive angiography and percutaneous coronary interventions.
While stationed in San Antonio, Dr. Soh deployed to Iraq, serving in a large combat hospital in Tikrit as an intensivist and the theater cardiology consultant. Dr. Soh's final military assignment was at Walter Reed National Military Medical Center in Bethesda, MD. In addition to starting another transradial cardiac catheterization program, Dr. Soh launched the transcatheter heart valve program after becoming the first physician in the Army to perform transcatheter aortic valve replacement. This life-saving procedure allows for the aortic valve to be replaced without an incision and often without general anesthesia. While at Walter Reed, Dr. Soh deployed to Afghanistan as a forward-deployed physician with a light infantry battalion. He was also hand-selected to serve as a consultant to the White House Medical Unit, seeing patients from the highest levels of the executive branch of our government. After being promoted to the rank of colonel, Dr. Soh retired from the Army in late 2017.
In addition to transcatheter aortic valve replacement, Dr. Soh's professional interests include the treatment of patients having acute myocardial infarctions (heart attacks), complex coronary revascularization procedures with angioplasty and stenting, valvular heart disease, and preventive cardiology. Dr. Soh is an active member of the American College of Cardiology where he has served on various committees at the national level. Dr. Soh is also a clinical associate professor of medicine at the Uniformed Services University.
Dr. Soh resides in Arlington with his wife and two children. In his spare time, he enjoys photography, exercising, and playing golf.
Dr. Soh serves the following locations: