Meet Dr. Karimi
Ashkan Karimi, MD, RPVI, FACC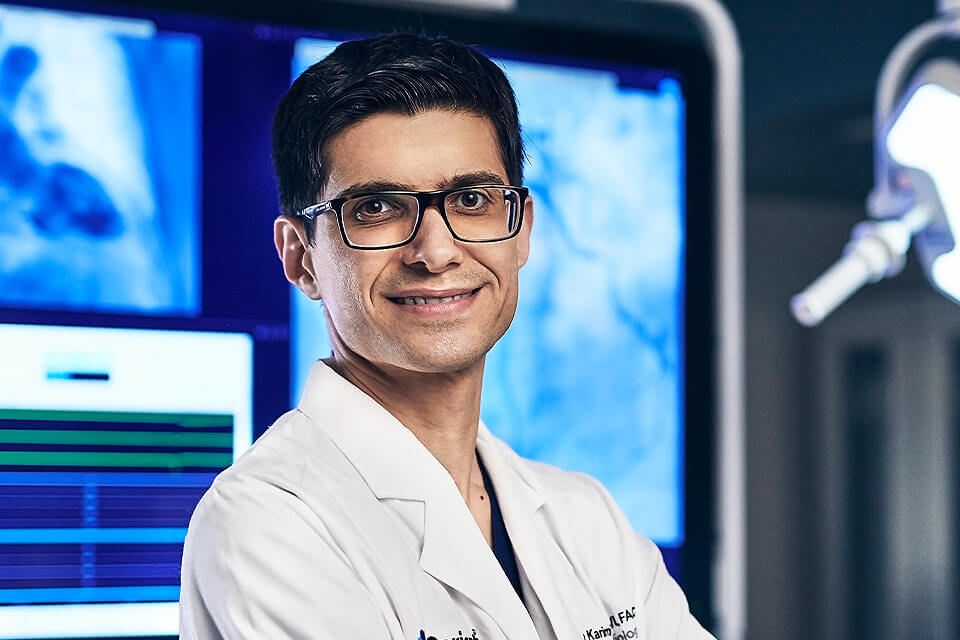 Areas of Expertise
Interventional Cardiology
Endovascular Specialist
Biography
Dr. Ashkan Karimi earned his medical degree from Shiraz University of Medical Sciences in Iran. He graduated as the valedictorian of his class. During the last year of his medical school, he did clerkship courses at the Yale New-Haven Hospital in Connecticut. In 2010, he worked as a research assistant within the Division of Thoracic and Cardiovascular Surgery at the University of Florida and during that year, he developed the passion to pursue a career as an interventional cardiologist. He finished his training in internal medical and cardiovascular medicine at the University of Florida and subsequently joined the University of Virginia faculty as an Assistant Professor of medicine, where he continued to see and treat a vast variety of cardiovascular pathologies.
He then returned to the University of Florida and completed training in interventional cardiology, structural heart disease, and peripheral vascular disease. In addition to treating patients with cardiac and coronary artery disease, Dr. Karimi has an unswerving dedication to treat patients with peripheral arterial disease and chronic limb-threatening ischemia (CLTI). He applies advanced endovascular techniques to restore blood flow to the patients' limbs in order to resolve their pain, expedite wound healing, and ultimately prevent amputation. Patients with CLTI are often suffering for a long duration of time and not uncommonly are told that they have no option because their disease is terminal, but thanks to the advancements in the endovascular techniques and technology, especially over the past few years, there are now many effective and less invasive options available to these patients which often do not even require hospital admission. Dr. Karimi has a track record in expanding peripheral arterial disease and critical limb ischemia treatment options within his prior practice, which involved deployment of advanced peripheral interventional techniques such as retrograde access and pedal loop reconstruction.
Dr. Karimi also performs trans-catheter aortic valve replacement, atrial septal defect and patent foramen ovale closure, treats patients with superficial and deep venous disease, and pulmonary embolism. He is excited to join Carient Heart and Vascular practice and help advance the endovascular service line. In his opinion, a very unique aspect of Carient Heart and Vascular is the depth and breadth of expertise that we are able to provide to our patients within our group. Very few practices offer the combined forces and experiences of an interventional cardiologist and a vascular surgeon to care for patients with peripheral vascular disease and CLTI. When patients are seen at our practice, they can be confident that they receive the best and most appropriate treatment whether it is surgery or endovascular therapy.
Dr. Karimi has also been involved in clinical research related to various pathologic disorders involving coronary, peripheral, and structural heart disease. He has published in multiple peer-reviewed journals and has presented at several national and international conferences, including the American College of Cardiology and Transcatheter cardiovascular Therapeutics meetings. You can find his publications here.
In addition to his roles as a clinician and researcher, Dr. Karimi also enjoys teaching and supervising medical and physician assistant students. He is happily married to his wife after they met in medical school and they have a son. In his free time, he enjoys spending time with family, hiking, reading, and swimming.
Dr. Karimi serves the following locations: