Meet Dr. Arshad
Aysha Arshad, MD, FACC, FHRS, FAHA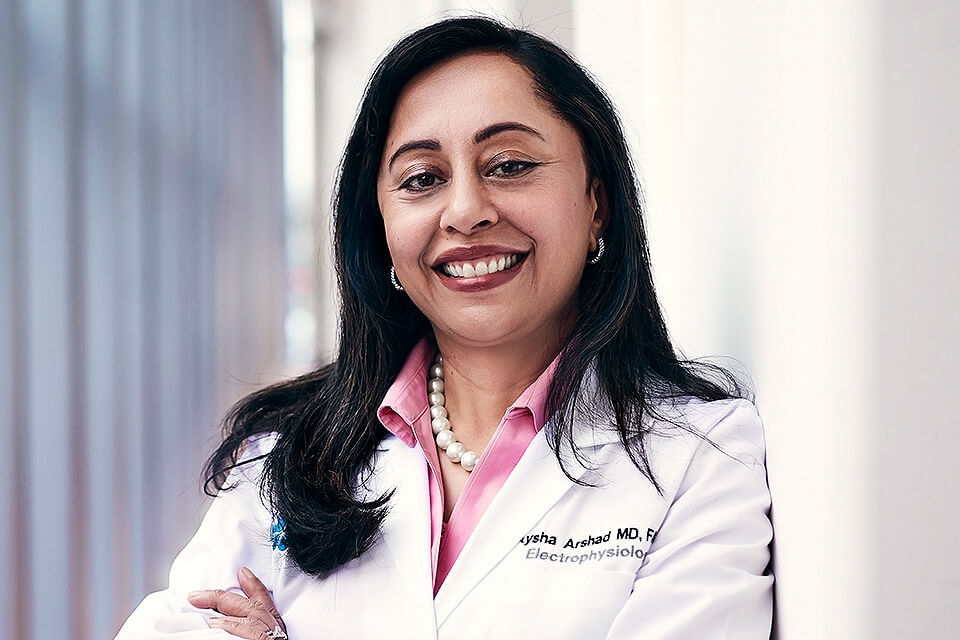 Areas of Expertise
Non-Invasive Cardiology
Electrophysiology Consultation
Clinical Cardiac Electrophysiology
Evaluation of Heart Rhythm Disorders
Pacemaker and ICD Implantation and Management
Catheter ablation for arrhythmia management
Women's health
Non invasive
Biography
Dr. Aysha Arshad completed her medical residency at Westchester Medical Center - New York Medical College and, subsequently, Cardiology and Electrophysiology fellowships at St. Luke's Roosevelt Hospital Center - Columbia University of Physicians and Surgeons. She served as an Assistant Professor of Medicine at Columbia University College of Physicians and Surgeons from 2005 - 2011.
Currently the Director of the Electrophysiology Lab at Novant Health UVA Prince William Medical Center as well as Clinical Cardiac Electrophysiologist for Carient Heart and Vascular, Dr. Arshad's areas of specialization include laser extraction, device implantation, his bundle pacing (HBP), gender and arrhythmias and complex ablations.

A fellow of the American College of Cardiology, as well as a fellow of the Heart Rhythm Society and a fellow of the American Heart Association, she is both an author and co-author of a number of publications in peer reviewed journals and books and has participated in and collaborated on a number of clinical trials.
Dr. Arshad was awarded the highest scored abstract for Women in Electrophysiology at the 2013 Heart Rhythm Society meeting and served as a member of the evidence review committee for 2015 SVT guidelines.
Dr. Aysha Arshad together with her sister, Dr. Rabia Arshad, lead the Women & Heart Disease program at Carient Heart & Vascular.
Board Certifications
Internal Medicine
Cardiovascular Disease
Cardiac Electrophysiology
Education
Medical School - Aga Khan University Medical College
Internship and Residency - Westchester Medical Center- New York Medical College
Cardiology and EP Fellowships - St Luke's Roosevelt Hospital Center, Columbia University College of Physicians and Surgeons
Dr. Arshad serves the following locations: