Early Intervention Makes a Life-saving Difference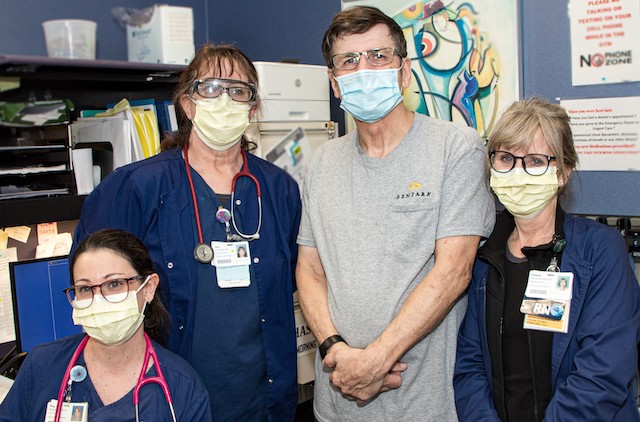 Like a lot of people, Brad Ball thought he was doing all the right things when it came to his health. The 62-year-old worked out regularly, ate what he thought was a balanced diet with plenty of leafy greens, and lived an active lifestyle. That's why he was shocked in August 2021 when he realized he was having a heart attack at the gym.
"The heart attack itself really came as a complete surprise. I exercised as normal, but about halfway through my routine felt severe pain in my chest," remembers Brad. It was so painful he thought about lying down for a bit.
Brad called his wife, Takako, and the two decided he needed to go to the hospital. They went to Sentara Northern Virginia Medical Center where he was seen immediately and diagnosed with a heart attack. It was determined Brad had one artery with a 100% blockage. Interventional Cardiologist Dr. Balbir Sidhu with Carient Heart & Vascular and the Sentara Heart & Vascular Center decided the best course of action was to place a stent and perform a heart catheterization procedure to relieve the obstruction.
Heart catheterization is now the standard of care in a patient having a heart attack," explains Balbir Sidhu, MD, FACC. "In the past, we used to give clot-busting medicine which worked only 50 to 60% of the time. The heart cath is typically done through the radial artery using local anesthesia and is pretty much painless. A stent is placed to keep the artery open to prevent any damage to the heart. A stent is like a metal scaffolding that is coated with a drug to prevent any further closure of the artery. From there, the patient has to take a blood thinner to keep the stent open.
Brad's procedure reduced the blockage by nearly half.
From the time of chest pain to having a stent placed only about 90 minutes or so elapsed," recounts Brad. "I was in ICU for a couple of days as I waited for the numbers to come down on one particular test.
When Brad was discharged, doctors referred him to the Sentara Cardiac Rehabilitation Program. The program, certified by the American Association of Cardiovascular and Pulmonary Rehabilitation (AACVPR), has specialty trained staff, along with registered nurses, who closely monitor and record a patient's vitals. In addition to the physical aspects, the program also teaches patients how to they can make meaningful tweaks to their diet.
Sentara's Cardiac Rehab is so special because being a community hospital, we can provide individualized treatment and attention to our participants," explains Meg Spacek, BS, RN, CCRP. "Due to our location in the Northern Virginia area, we can offer state of the art care. It is NOT one size fits all here. Our hope is that our participants develop the tools necessary in cardiac rehab to take control of their heart health and increase their confidence in their health.
Day by day, Brad grew stronger and more self-assured.
Rehab has been awesome. They start you off slow to make sure you can handle the exercises," explains Brad. "I was initially doing the treadmill, arm ergometer, recumbent bike, and stationary bike. If the staff feels you are ready, they will add one day into your routine. The staff increases the workload based on their readings about once a week. Lightweights were added in the fourth week. By the fifth or sixth week, the arm ergometer was replaced with the elliptical and total body workout instructions added in to do at home.
The workouts not only helped Brad's heart and body but gave him confidence that he was healing. As Brad got the hang of the physical aspects of the program, he and his wife started implementing some of the dietary suggestions with noticeable results.
"I was fortunate in that my wife was awesome in adjusting our entire diet routine and portion sizes to accommodate the necessary regimen for better health. I have lost 40 pounds (roughly 18% reduction) since the heart attack and seen my cholesterol level cut in half, which allowed for some dosage reductions in my meds," says Brad.
Like many people, COVID-19 has added some challenges, but Brad is committed to his health and his workouts. He says he couldn't have done it without the Sentara Cardiac Rehab team.
"The team and facility are really great. They treat everyone as individuals and really seem to care. The staff are all consummate professionals and the program is very helpful for patients who want to get their confidence back and improve their health in the process. The program has helped me avoid a lot of trial and error in finding the regimen that is most beneficial. The staff even focuses on the "little details" such as what background music is playing. It is usually geared toward the 60+ group and not the most recent top 40 singles!" he says chuckling.
Moving forward, Brad offers these tips:
Get checked and ALWAYS follow up if you have some symptoms. When it comes to chest pains and debating whether to be seen, always err on the side of caution. If you've never had that kind of pain before, you are probably in need of care.
Find your motivation to improve your health. For most of us, it will have to do with spouses, kids, or grandkids. Whatever it is put it in the front of your mind so that the urge to skip an exercise day or pick up some fast food is easier to resist.
Be grateful for second chances. Take advantage of it and don't dwell on what could have been done differently.
Being a little scared will be a fact of life going forward. There is no magic pill for that. It is easy to fall into the "feeling sorry for yourself" mode. Don't!
Diet and nutrition are extremely important. The American Heart Association and similar organizations have books and articles on heart-healthy recipes.