PET/CT Imaging
Cardiac PET/CT provides accuracy, excellent image quality, and has the ability to detect disease before symptoms are present. This extremely effective imaging technique can diagnose cardiac disease with greater certainty and much lower radiation exposure than traditional stress testing.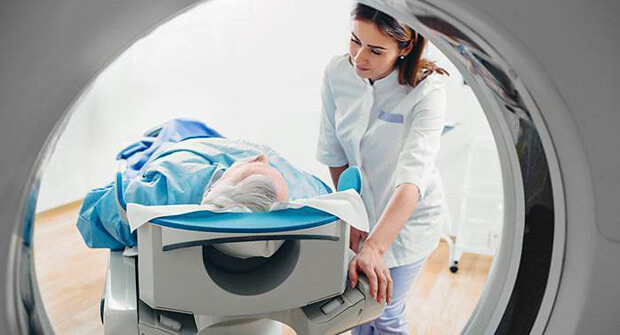 Advantages
Higher diagnostic accuracy
Significantly lower radiation exposure
Consistent high-quality images
Shorter study time, less than one hour
Decreased retesting due to image clarity
How to Prepare
In the event you are claustrophobic and/or have a problem with being in a restricted environment for any period of time, please contact our Triage department to make specific arrangements.
Do not eat or drink anything that has caffeine, including coffee, tea, decaffeinated products, Excedrin, chocolate, cocoa, herbal teas, and soda for 24 hours before your appointment time.
Please arrive 30 minutes before your appointment time.
Do not apply lotion, cream, or deodorant to the chest area.
Wear loose, wide-sleeved clothing that can accommodate a blood pressure cuff and can be removed easily.
Take all medication as directed; please do not stop any medication unless instructed to do so by your physician.
If you are asthmatic, please bring your inhaler(s) with you.
In most cases, you may leave as soon as your cardiac PET scan is complete. You will be able to eat, drink, and return to your normal daily activities.